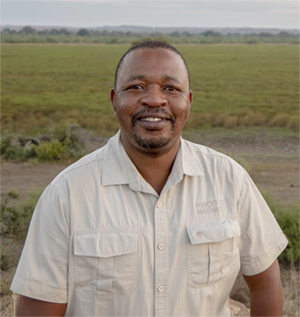 Aubrey Tseleng was born in Maunatlala, Botswana. He qualified as a teacher of Art in 1999 and at his first school discovered a storeroom full of photography equipment and chemicals. He turned his bathroom into a darkroom and began developing his film and prints. In a short time he got a scholarship to study at the University of Cape Town towards a BA Fine Arts and unsurprisingly majored in Photography. His work got recognition through several awards including The Katrine Harries Purchase Award and the Tierney Fellowship.
He returned to teaching and did event photography on the side, however his passion for teaching, nature and photography could only combine well as a nature photography guide. He persevered and showed up at Photo Mashatu to shadow Kyle and Ruth in 2015. From then he knew he wanted to take up nature photography as a career. He prepared and moved to work in Shakawe a whooping 1000km away from family where he continued to teach art and take up Nature Guide Training part time. In 2017 he resigned from teaching and began a career as a nature photo guide and nature photographer.
He draws inspiration from nature to highlight its brilliance through photographs that seek to connect the viewers back to nature. His experience as a teacher makes him accessible to photographers of all levels and non photographers as well.